PUBLIC PLAY SPACE SYMPOSIUM
14 - 15 JULY 2021 // ONLINE
The Public Play Space Symposium is organized in the framework of the Public Play Space (PPS) project, co-funded by the Creative Europe Programme of the European Union, aiming at exploring innovative and creative practices for the co-design of inclusive, cohesive and sustainable public spaces, through the use of games and digital technologies.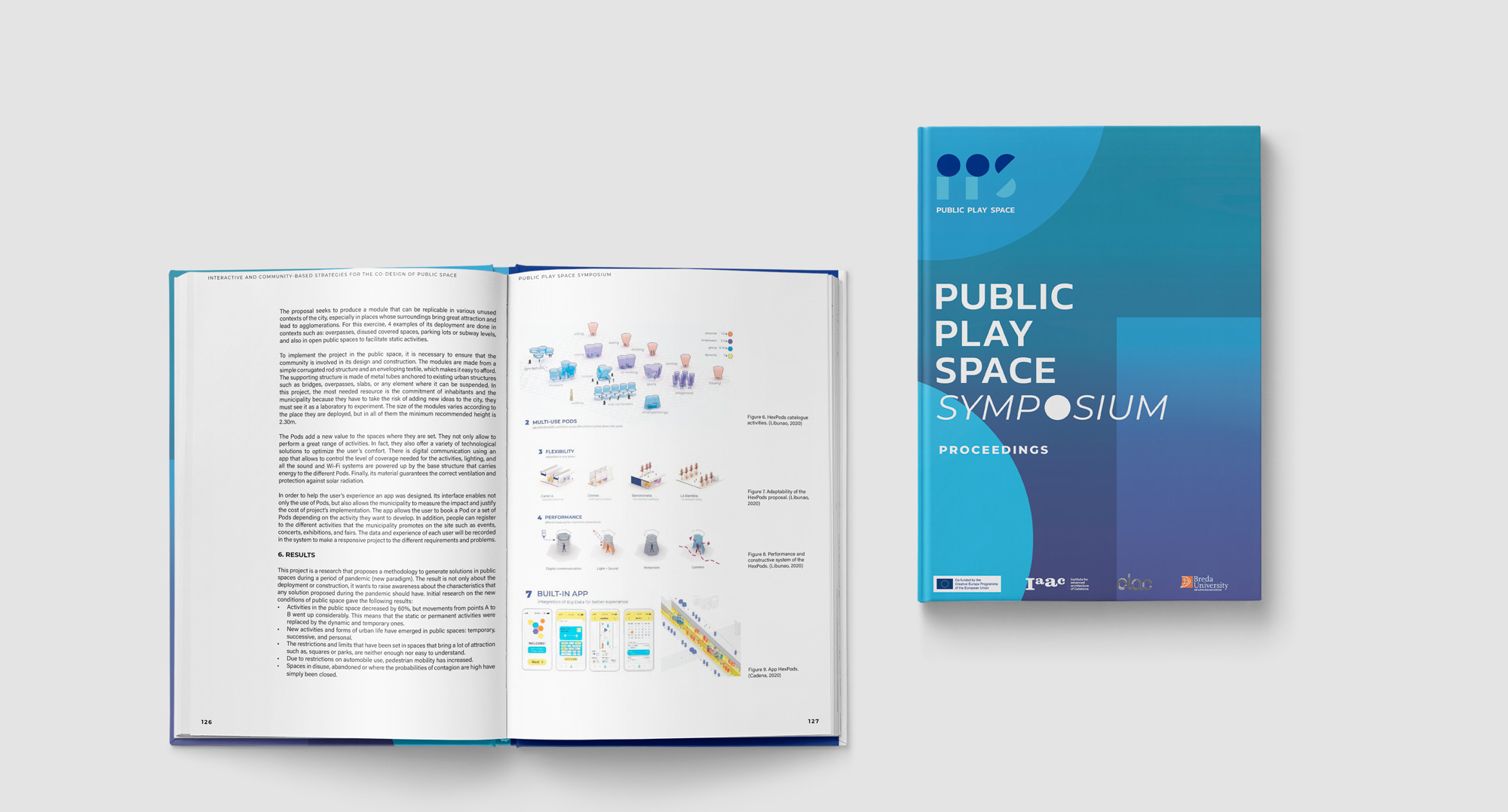 Public Spaces play a key role in urban systems, by both acting as physical manifestations of societal relations and imaginary, as well as structural nodes that contribute to the resilience and functionality of cities. The COVID crisis itself has underlined this, calling for public spaces to quickly adapt and embed novel behavioural and utilization patterns in order to address the changing needs of communities.
The importance of societal engagement in the process of design and implementation of the public built environment is widely acknowledged by policy makers and the scientific community. Over the past decades, there has been a surge  of participatory and co-design processes worldwide including placemaking practices, calls for action, or co-design initiatives.
During the last decades, policy makers and city managers have started to use digital technologies as means to further engage citizens in the decision-making process. For instance, these activities can be supported by digital platforms which include features like polls for decision making, forums allowing interaction and discussion, or visualizations and animations in order to ease the communication of complex concepts. The concept of Gamification is also gaining importance; it is intended as a strategy to thoughtfully make these processes fun by applying game elements to real-world activities. The objective of this addition is to trigger more appealing and engaging participatory practices, as well as incentivizing active and consistent behaviour of the participants. Games are in fact demonstrated to have a motivational effect on their users, consequently increasing their level of participation. Some of the dynamics applied include rules, competition, outcomes, conflict, and other gameful or playful elements.
When applied to participatory practices for co-design in Public Space environments, gamification and responsive digital technologies, such as Virtual and Augmented Reality or Digital Interfaces, can become powerful tools to tackle the limitations of conventional methodologies. This contributes to widening the audience, ensuring the inclusivity of proposals, as well as to increasing the accessibility of design activities to non-expert citizens, empowering them as agents of transformation of the public realm.
The combination of Responsive Digital Technologies and Gamification Strategies can also empower designers with a wide range of applications. These include  stimulating citizen reflection and civic learning; generating interaction and resolving  conflicts between citizens with contrasting views; promoting values such as sustainability, coexistence and circular economy thanks to the purposeful use of objectives, challenges and tokens; simulating the impact of different design solutions; and generating awareness and informed decisions thanks to data visualization and indicators.
The objective of the Public Play Space Symposium is to investigate how Gamification strategies and Responsive Digital Technologies can foster and enable the implementation of Co-Creation and Co-Design processes in and for Public Space.
The symposium is organised around the following topic sessions:
Responsive Technologies and Playful Platforms;

Serious Games for the Co-design of the Public Space;

Gamification, Play and Community-based Strategies.
The PPS International Symposium will be held over two days, on the 14th and 15th July 2021 and will be held entirely online.
Day 1 // Invited Keynote speakers;
Day 2 // Papers discussion
FULL  PAPERS and POSTERS SUBMISSION
13th June 2021
ANNOUNCEMENT OF SELECTED PAPERS and PROJECTS
25th June 2021
SYMPOSIUM 
14th and 15th July 2021
CALL FOR PAPERS AND PROJECTS (CLOSED)
This Call is aimed at collecting novel and high quality papers and projects on the topics mentioned above.
Selected works will be part of the online publication of the Symposium proceedings.
Symposium proceedings will be accessible online as open access publication with ISBN number.
Papers should be max 3,000 words (including references, excluding abstract). They should include the following information: title, authors details, short abstract of 200 words, min 300dpi.
Every paper must be sent both in .doc and .pdf formats, following the provided layout.


Projects must be realized by the person/ people submitting. They have to be presented in one A1 poster, vertical format, including title of the project, author(s) details, year of realisation, keywords, text illustrating the main features of the project, figures/images/ tables.
Poster must be sent in .pdf format, following the provided layout
Language: English
Copyrights: all parts of the submitted material (including text and photographs), must be either authored by the person/people submitting, or must have the rights to use and publish them.
Free of charge: participation in the Call for Papers and Symposium will have no cost.
Selected papers: The selection of the papers and projects will be based on the following criteria:
Relevance to the Call for Papers and projects;
Originality and innovation to the literature;
Impact and scalability in real case scenarios.
Publication: Submission of papers and posters implies the author's agreement to publish the submitted content in the conference proceedings publication, including the website.
Deadline: full papers and projects must be submitted by 13th June 2021.
Announcement of Selected Papers and Projects will take place by the 25th June 2021
SELECTED PAPERS AND POSTERS
PANEL 1
Gamification and Serious Games for the co-design of Public Space
Aguirre, Romero, Tremante, Acero, Arévalo, Díaz, Peralta – From Gamification to Integrated Urban Regeneration

Augello, Gentile, Picone – Mind Games

Sousa – Modern board games and modern urban play: Design and interaction advantages to foster social and participatory planning.

Drude, Zellmer – Project DisCo As A Participatory Platform

Ingrassia – Game-based Participatory Urban Design: Engaging children to co-create sustainable and inclusive public spaces

Kharbanda, Madhan, Yarnell, Andersen, Garcia del Castillo Lopez – CarbonCrunch

Weber-Sabil, Lalicic – Taking Sustainable Tourism Planning Serious – Co-designing Urban Places with Game Interventions
PANEL 2
Interactive and Community-based Strategies for the co-design of Public Space
Apeldoorn, Hollander – Pokémon Go as a productive counter-space

Cadena, Libunao – Hexpods. New Paradigm: Reprogramming Public Space During Covid-19

Cupkova, Huber – Rocking Cradle: Interactive urban furniture in pursuit of environmental attunement

Goodarzi – Holistic real data-driven decision support tools for integrated building-landscape regenerative design process

Mindrico –   Labirinto Urbano: Ludification as a form of civic and urban communication towards inclusion

Palazzolo Henkes, Qatanany, Galdys, Patil – Time Uses, Space Design: Adaptable use of spaces based on citizens time use

Paul, Firoz – Public Human Space – Adaptable use of spaces co-designed + co-created by the user based on users needs and desires

Tomé – What is Playmaking? The power of video games to build ways of inhabit that cares
TOPIC 1
Gamification and Serious Games for the co-design of Public Space
Gentile, Picone – Gaming as a key approach for the recovery process of a public space: the case study of the old chemical plant 'Chimica Arenella' in Palermo

Hounjet – Eindhoven KNOOPXL

Innocent –  64 Ways of Being

Lemarie, Stephan – Common Ground: Distant Realities

Paez, Valtchanova – Subjective Cartographies: a mirror of diversity

Rot – Sprites of Meadowlands urban game

Zorn, Markus – Play for Dignity
TOPIC 2 
Interactive and Community-based Strategies for the co-design of Public Space
Callejas – Mind the Step: Co-creating Public Staircases

Cheng – Adaptive Furniture: Deep Learning in human activity

recognition (har) to promote adaptability  in public space furniture

Islam – Children-led co-creation of a vertical productive garden 

Janu – Toolkit for community engagement with Delhi's Master Plan 2041

Moro –  A new theater square for the Yak community. Designing the public space through performative activation in Varese

Paez, Valtchanova, Montes, Aguirre – En Mitjons a la plaça: collaborative action for urban regeneration 

Silva Diaz –  Piecing change in a global pandemic: A participatory geodesign mapping method for urban communities in Río Piedras, Puerto Rico
REGISTRATION FOR GENERAL PUBLIC (CLOSED)
The access to the Symposium for general public is free, but there is limited number of seats. Register to reserve your seat!
Should you have any questions, please send us a message to: info@publicplayspace.eu
For further updates, please check regularly this website
The Public Play Space Symposium is organized in the framework of the Public Play Space (PPS) project, co-funded by the Creative Europe Programme of the European Union, aiming at exploring innovative and creative practices for the co-design of inclusive, cohesive and sustainable public spaces, through the use of games and digital technologies. 
Chair
Chiara Farinea (IAAC)


Co-chair
Marco Ingrassia (IAAC)


Organising commitee
Raquel Villodres (IAAC)
Marco Ingrassia (IAAC)
Fiona Demeur (IAAC)

Scientific Commitee
Chiara Farinea (IAAC)
Marco Ingrassia (IAAC)
Davide Leone (CLAC)
Igor Mayer (BUas)
Nick van Apeldoorn (BUas)
Zhan Goosen (BUas)
IAAC – Institute for Advanced Architecture of Catalonia,  is an educational and research centre dedicated to the development of an architecture capable of meeting the worldwide challenges in the construction of habitability in the early 21st century. Based in Barcelona, platform for the exchange of knowledge with faculty and students from over 60 countries.