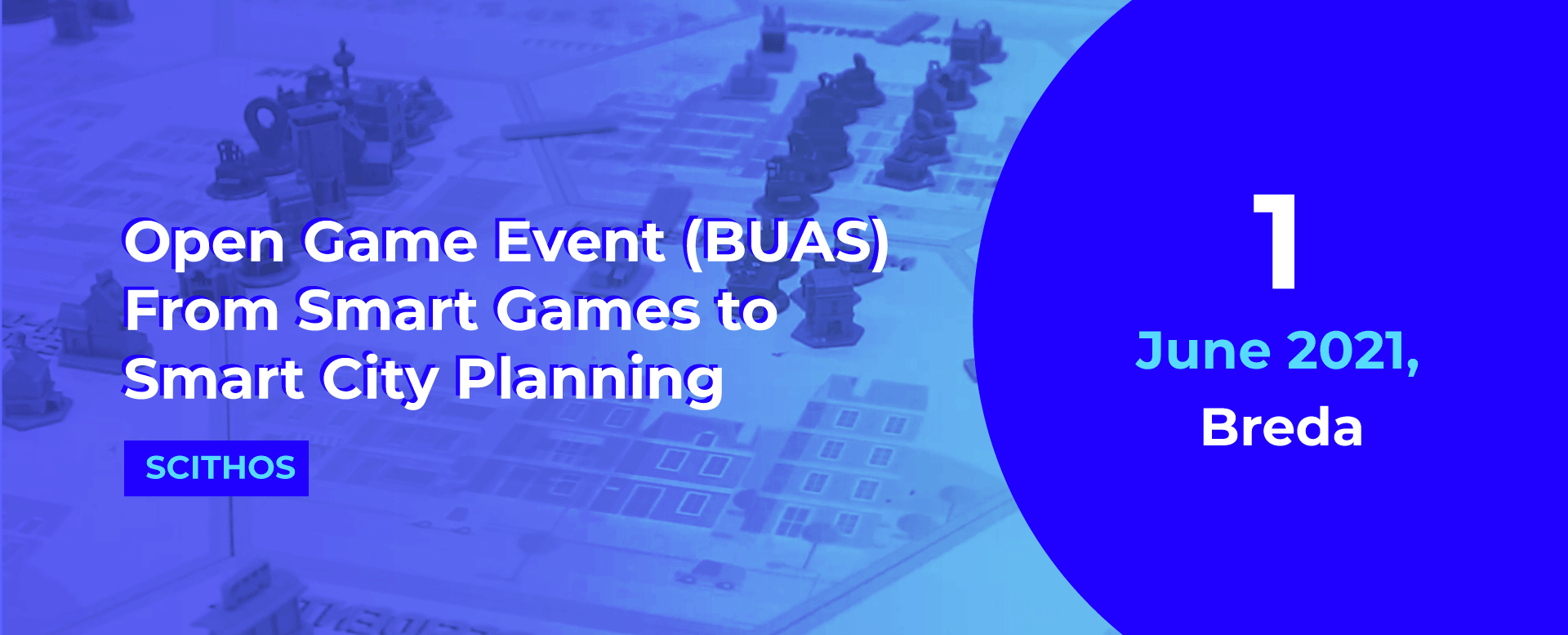 OPEN GAME EVENT IN BREDA (BUAS)
SCITHOS: FROM SMART GAMES TO SMART CITY PLANNING
1st June 2021 - 10 AM - 4 PM
On the 1st of June 2021, Breda University of applied sciences (BUAS), in collaboration with the municipality of Breda, will host the Third PPS Open Game Event!
In this event, citizens, students from BUAS Smart City course, experts in games and participatory design, together with city planners from the municipality of Breda will play the serious planning game SCITHOS, with the aim of investigating and experimenting to what extent games can lead to a deeper understanding about balancing different needs in a city in order to make them more attractive, inclusive, and playful.
ABOUT THE GAME
The Smart City Hospitality (SCITHOS) game, simulates not only how urban tourism contributes to (local) economic prosperity but also its negative impacts, with the discussion now focusing on overtourism, CO2 emissions and waste, which harm the quality of life for residents and the experience quality for visitors. Current developments such as COVID-19 make the tourism industry even much more fragile and vulnerable.
The Smart City Hospitality (SCITHOS) project addresses these issues by supporting cities to make the transition towards resilient and responsible tourism. It combines hospitality principles, simulation tools, apps, and serious gaming techniques. The SCITHOS framework serves as the reference point for context-specific discussions about urban tourism with the Smart City Hospitality Project. Based on extensive literature review and over 50 interviews with stakeholders in the six participating cities, the SCITHOS framework combines current thinking on sustainable development with thinking on city hospitality and resilience. The framework places the discussion of city tourism in a systems perspective to create a more holistic discussion of the role and impacts of tourism in a city.
The project and game stimulate collaborative forms of decision making, even for a subject like city tourism development, which has in recent years been characterised by its divineness.
Due to COVID constraints, the OGE will be played in two rounds with a collaborative debrief in which we will reflect on the lessons learned and the strong and weak points of including games in planning and placemaking efforts.
AGENDA
10:15 > Presentation and Opening Remarks
10:30-12:30 > Start Round 1
13:30-15:30 > Start Round 2
15:30-16:00 > Debrief
LOCATION
This Open Game Event will take place on the 1st of June 2021 at the Innovation Square at Breda University of applied sciences: Monseigneur Hopmansstraat 2, 4817 JS Breda.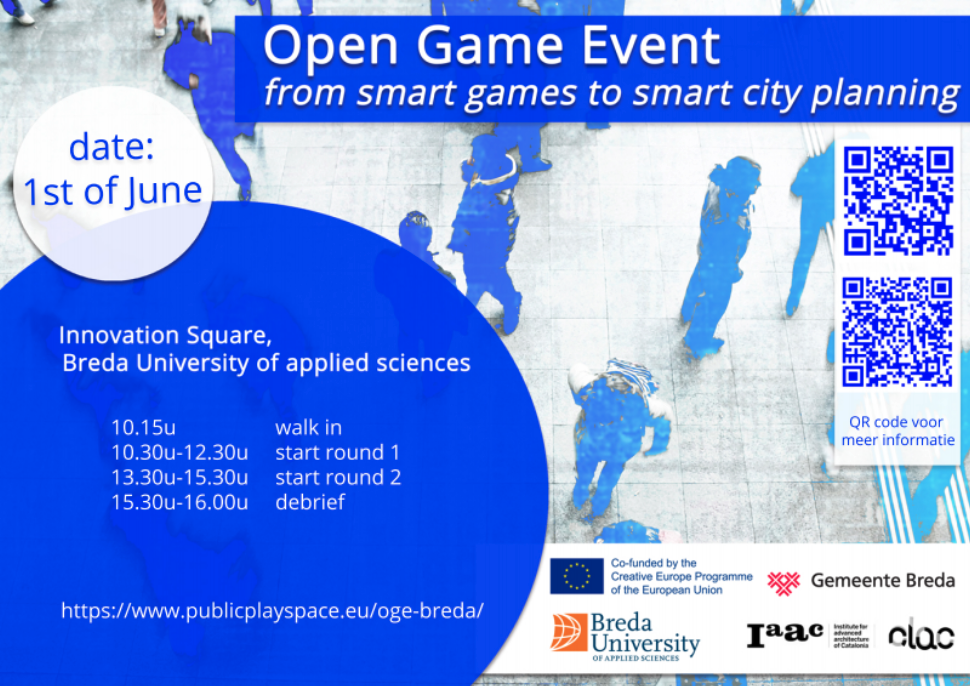 The events aims at engaging stakeholders (neighbourhood associations, policy makers), architecture and design students, and citizens (including people that attend participation meetings as well as people that are not common participants in these kind of activities, such as infants, and migrants) driving their attention on the importance of participation in cities design and on the potentials of digital technologies in this context.

In this way, the interest in game and advanced technologies for placemaking will rise amongst new audiences, as well as engaging such audiences in the process of co-design and placemaking of the public space they inhabit.

Each event will take place along 1 day. Stakeholders will be engaged in co-designing one neighbourhood in a target city. This activity will allow cultural operators and public institutions representatives to experiment the use of novel methods of co-design and placemaking with a wide public as well as to collect data about the citizens needs and desires. It will also engage citizens in co-creation processes by strengthening their confidence with participatory processes, education on inclusiveness (learning about other citizens' needs and desires) and on sustainability (co-designing more efficient and resilient public spaces).