Public Play Space: Innovative practices, games and digital tools for the participatory design of the Public Space
14th May 2021 - 17:00 - 19:30 CEST
The round table and workshop "Public Play Space. Innovative practices, Games and digital tools for the participatory design of the Public Space" is a local event organised in Barcelona to promote and disseminate the activities developed in the Public Play Space project, and to connect and give visibility to placemaking experiences developed locally in the city of Barcelona . 
It is an event organized by IAAC – Institute for Advanced Architecture of Catalonia in collaboration with the Taula Eix Pere IV Association, a local association of neighbours and civic actors of the Poblenou district in Barcelona, in the context of the 2021 Barcelona Architecture Week.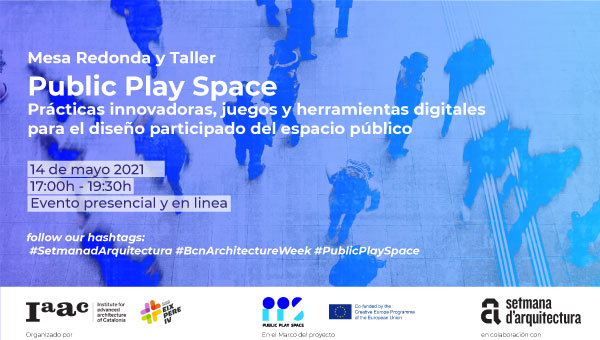 The round table aims at debating  on the challenges of public space generated by the pandemic crisis, and will reflect on the potential of new digital and gaming tools to involve citizens in the participatory design process. Architects and urban planners, experts in games and digital technologies, and citizens interested in participation, will share their experiences developed in Barcelona and other European cities. 
At the end of the round table (that will be conducted in Spanish, and live-streamed via Zoom), a workshop will offer those participants pre-registered to the event the possibility of experiencing and interacting with different participatory practices based on digital tools and games. 
The event will take place in Can Ricart, Barcelona, and will be live-streamed via Zoom
The event is organized by the IAAC within the framework of the European project Public Play Space (co-funded by the Creative Europe Program of the European Union) in collaboration with the association Taula Eix Pere IV, in the context of the Setmana d'Arquitectura 2021.
Registration
Registration for the event is mandatory, using the following links: 
> Registration for online participation (ZOOM platform)
> Registration for face-to-face participation (due to the measures for the prevention of the transmission of COVID-19 we may have a very limited number of face-to-face participants. Reserve your seat!)