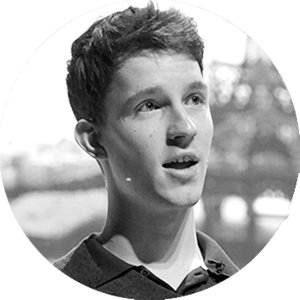 Block by Block // Blockworks
James is the founder and Managing Director of BlockWorks, a collective of designers, artists, and developers from around the world with a shared passion for Minecraft. BlockWorks has grown from an informal group to a global design studio that has pioneered the use of Minecraft as a design tool with film studios, marketing firms, and educational institutions. In 2016, James published Beautiful Minecraft, a compendium of stunning artworks built in the game by the BlockWorks team.
James joined the Block by Block Board in 2019, bringing his architectural background and understanding of the Minecraft community to help Block by Block connect with this unique global network of creators and players. He has participated in Block by Block projects in Surabaya and Addis Ababa and helped prepare the Minecraft assets for workshops in Beirut and a presentation at Habitat III in Quito. He also serves on the Communications Committee.
James graduated with a degree in Architecture from Cambridge University and pursues a particular interest in the correlation between architecture and video games. He is an elected fellow of the Royal Society of Arts, and has given talks at the International Spatial Development Forum, The Bartlett School of Architecture, and the British Library, among others. James enjoys traveling; when in new cities he looks for hidden public spaces to explore.