PPS has participated in the 2020 edition of the Barcelona Park(ing) Day!
The Park(ing) Day Barcelona is an event organized by ISGlobal (ISGLOBAL – Barcelona Institute for Global Health), Espai Ambiental Cooperativa (Espai Ambiental) in collaboration with the municipality of Barcelona that aims at transforming, for one day, public parking spots into parks, gardens, and other kinds of public spaces with the aim of vindicating that another kind of city is possible: greener, with less cars, and people oriented. 
More info at the Parking Day Website.

Last Friday 18 September 2020 we occupied a public parking slot in the city of Barcelona and played a participatory game with the aim of building and designing together the urban public space while discussing the topics of circular economy, resilience, carbon neutrality, green mobility, health, food, and more.
Faced with the new needs generated by the pandemic, the city of Barcelona has taken the decision to free up space, previously occupied for mobility by car and for parking, and dedicate it to pedestrian use.
New pedestrian routes have been created in Eixample streets that were previously dedicated to vehicular traffic. But, what model of inhabitation do we want to promote for this novel public space?
The pandemic has demonstrated the need to think models of dynamic, adaptable and responsive public space over time, capable of adapting to different functions and wishes requested by citizens, towards the definition of a more inclusive public space open to communities. that inhabit it.
The parking space became a new public space, a Public Play Space Arena for every citizen!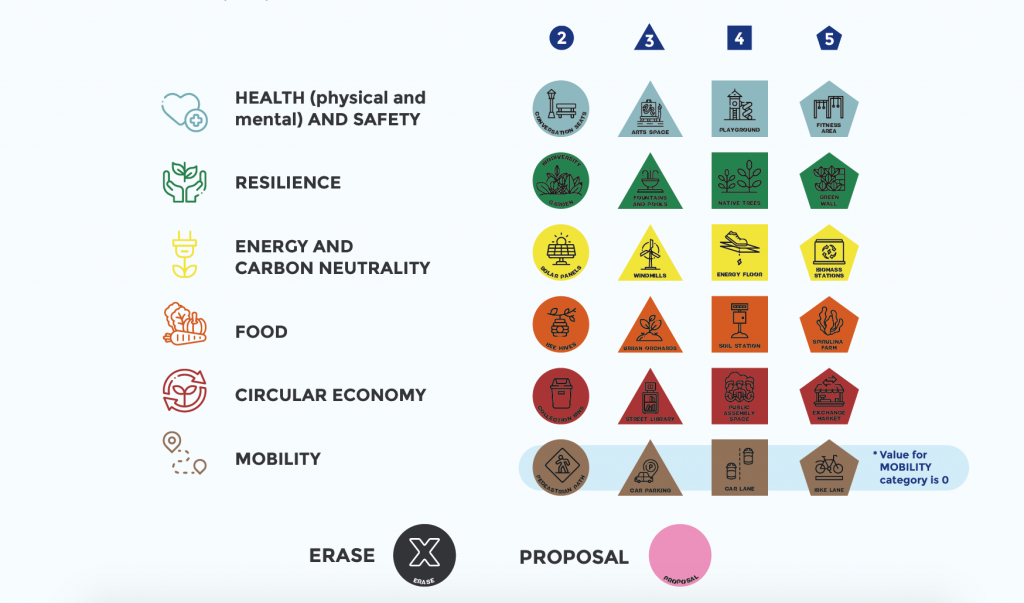 The player can choose the modules that represent the functions that interest her the most and arrange them in the space, expressing her wishes for the public space. A tracking camera will collect the data from each game session, generating knowledge about the wishes of the citizens. 
Each player will count on an available budget of 50 points, which can be invested in the purchase of different modules for the city's public space. Each module has a value of 2, 3, 4 or 5 points, and belongs to one of six categories. 
SPANISH VERSION
Frente a las nuevas necesidades generadas por la pandemia, la ciudad de Barcelona se ha enfrentado con la necesidad de liberar espacio, antes ocupado para la movilidad en coche y para aparcamientos, y dedicarlo al uso peatonal. 
Nuevos recorridos peatonales se han creado en calles del Eixample antes dedicadas al tráfico vehicular.
Pero, qué uso queremos promover para este espacio público? 
La pandemia ha también demostrado la necesidad de pensar modelos de espacio público dinámico, adaptable y responsivo en el tiempo, y capaz de adaptarse a diferentes funciones y deseos pedido por los ciudadanos, hacia la definición de un espacio público más inclusivo y abierto a las comunidades que lo habitan. 
El espacio de parking se convierte en un nuevo espacio público, una arena de juego para los participantes al Parking Day.
Descubre las Reglas del Juego
Cada jugador podrá tener un budget disponible de 50 puntos, que pueden ser invertidos en la compra de diferentes módulos para el espacio público de la ciudad. Cada módulo tiene un valor de 2, 3, 4 o 5 puntos, y pertenece a una de seis categorías
El jugador puede elegir los módulos que representan las funciones que más le interesan y disponerlos en el espacio, expresando sus deseos para el espacio público. Una cámara de tracking recolectará los datos de cada sesión de juego, generando un conocimiento sobre los deseos de los ciudadanos.